Nearly all of TeenSHARP graduates were either accepted into or currently attend one of the nation's 238 most selective colleges.
Nybria came to TeenSHARP as a high school junior and is currently a sophomore at Smith College on a full scholarship.
Nybria selected Smith College (ranked #19 among liberal arts colleges) after receiving full scholarship offers from University of Pennsylvania, Pitzer College, Franklin and Marshall, and many other selective institutions.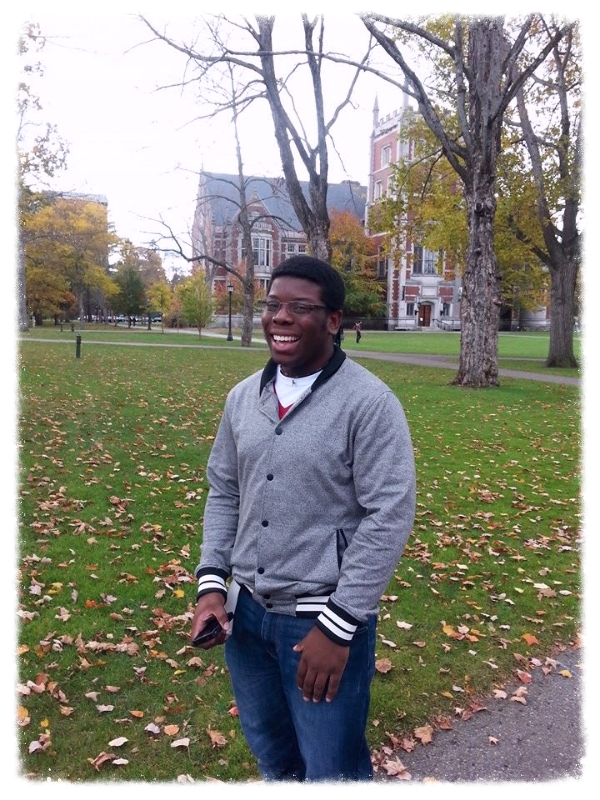 Robert, a budding marine scientist, came to TeenSHARP as a high school sophomore and is now a rising senior at Bowdoin College on a full scholarship. Robert also received a full scholarship to attend Occidental College and selected Bowdoin. Bowdoin has an acceptance rate of 14% and was listed as the fourth-best liberal arts college in the U.S. in the 2014 U.S. News & World Report rankings.
Austin came to TeenSHARP in September of his high school sophomore year. In the spring, he organized his school's first College Awareness Week and was selected to attend the prestigious TEDxTeen leadership conference. During the summer of 2015, with the help of TeenSHARP, he was selected to receive a US Department of State scholarship to participate in a language immersion program in China for six weeks. During Austin's senior year he was admitted into Georgetown, Williams College (#1 ranked liberal arts college), Swarthmore, and many other highly-selective colleges. He was also selected to return to China for a year on a US Department of State scholarship. Upon graduation, he will study in China for a year and then start college at Swarthmore where he received the institution's most prestigious scholarship (McCabe scholarship).
Abigail is a second year College Discovery Scholar and a rising 9th-grade student from Pennsylvania. Abigail was one of 32 student reporters selected from across the United States for the Scholastic News Kids Press Corps in 2014.  Abigail's favorite subject is history, her favorite book is I Am Rosemarie by Marietta D. Moskin, and her motivation for being a Kid Reporter is as follows: "I want to help tell the stories of people who can't get their voices heard." As a Kids Press Corps member she had the opportunity to meet First Lady Michelle Obama and interview renowned activist, lawyer, and founder of the Children Defense Fund--Marian Wright Edelman.
School and Community Success
TeenSHARP College Access Ambassadors reach anywhere from 30 to 1400 students in their schools with their college awareness initiatives annually.
Over the last three years, TeenSHARP College Access Ambassador Austin has reached the 1400 students in his school (Winslow Township High School) through college awareness week events. He held a film screening to raise awareness about global competition in education, moderated a panel of alumni, established a dream college poster competition, and invited guest speakers to morning assemblies. 
Maija graduated from TeenSHARP's College Access Ambassasdor program in 2013 and attends the University of Massachusetts-Amherst where she is now a rising senior in the Honors College.  Her work to promote higher education and social justice as a College Access Ambassador provided essential preparation for her current role: Director of Policy and Legislation at the UMass Center for Education Policy and Advocacy. In this role Maija conducts policy and legislative research, develops strategies to address student concerns, and mobilizes students across the UMass system.
"It was encouraging to see a panel of men who work diligently at fatherhood. The importance of having a supportive network in everything you do, even as it pertains to fatherhood, is a key lesson I learned from this forum. I will do my best to be active with the TeenSharp Dads." -Maxwell, parent of two College Discovery Scholars 
"The whole experience for me has been a great one:  College names, terms and phrases are a constant around the house these days. I wouldn't have imagined in a million years that my 10 and 11 year old young men would not only be excited about an overnight college tour, but remained engaged and enthusiastic throughout the entire three day visit to the Boston area. It was astounding to me." - Elaine, parent of two College Discovery Scholars and Vice President of the TeenSHARP Parent Network
"TeenSHARP parents are a village. Our support of one another involves not just our children's academic progress, but also our own health and wellness, our comfort level with educational advocacy on behalf of our children, and everything in between. One parent's child belongs to every parent of the village on Saturdays." - Connie, parent of two College Access Ambassadors