TeenSHARP Guiding Behaviors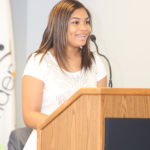 TeenSHARP increases students' access to competitive leadership opportunities. 
TeenSHARP provides intense academic preparation so our students embrace college-level work and challenge
TeenSHARP students learn about college admission and lead college awareness projects in their school. 
TeenSHARP students join a supportive network of young changemakers. 
TeenSHARP students learn about social justice issues and give back to their communities. 
TeenSHARP students receive individualized college prep advising and mentorship while participating in the following school year-round programs:
College Access Ambassador Training (9th-12th grade students) - The program engages College Access Ambassadors in academic success skill-building, leadership training, and increases their understanding of the college admissions process. College Access Ambassadors learn about education policy, attend school board meetings, and design projects to increase college awareness in their communities.
College Discovery Program (7th-8th grade students) - This program seeks to cultivate children's love for learning and provide early exposure to college. Students in the program receive over 120 hours of intensive supplementary Math and English classes and participate in experiential learning excursions and college visits.